Archived Services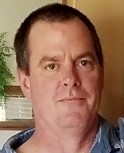 David Allan Terry
07-19-2022
David Allan Terry, 52, passed away July 19,2022 at Sanford Hospital. He was born to William and Sheila Terry February 6, 1970 in Sioux Falls SD.  
David attended Washington High School and later received his GED. He was an avid Minnesota Twins and Vikings fan, with a passion for cooking. 
Grateful for sharing David's life are Sandi Groen, two sons: Logan Terry and Cole Terry; his mother: Sheila Terry; brother: Bill Terry; twin brother: Mike (Lynne) Terry; nephew: Michael Terry; and two nieces: Breanna Hauck and Maryn Terry. He was preceded in death by his father: William Terry. David will be missed by many extended family members and friends 
Visitation will be Friday July 22, 5:00 PM - 8:00 PM at Barnett-Lewis Funeral Home.