Archived Services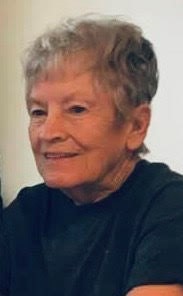 Patricia "Pat" Louise Gulbrandson Russell
10-16-2022
Patricia "Pat" Louise Gulbrandson Russell, of Sioux Falls, passed away October 16, 2022 at the age of 76. She was born November 20th, 1945 to Frederick and Grace (Smit) Becker in Sioux Falls, SD.
Pat attended Washington High School. In 1964 she married Raymond Gulbrandson and from that union two children were born.
She worked at various jobs until she settled at Good Samaritan Luther Manor where she continued until retirement.
In 1998 she married Larry Russel. When they began their life together both were empty nesters and enjoyed spending their weekends at their lake cabin on Lake Madison. They were always entertaining anyone who showed up and everyone was welcome to enjoy their hospitality.
Pat had a love for her dogs, Niki, George, Roy Billy, and Snickers. They were a comfort to her.
Family was important to Pat. She was always there willing to help anyone struggling.
She enjoyed spending time with her children, grandchildren, and great-grandchildren.
In recent years she reconnected with her sister-in-law, Mary Edgar, after many years of separation. They would go for ice cream, talk about the good ole days, and just laugh for hours. Their friendship was very special to her. Pat and her #1 Leslie St. Clair shared a special bond that was always a constant in Pats' life until the end.
Sadly Pat, 76, of Sioux Falls, died at the Centennial Cottage in Sioux Falls.
Pat will be deeply missed by her children, Gina Graham, Sioux Falls; and Randy Gulbrandson, Renner; her 5 grandchildren: Tabitha, Cody, Savannah, Blake, and Emma, all of Sioux Falls; Her 8 great-grandchildren: Logan, Makenna, Raegan, Landon, Gracelyn, Jovaun, Madilyn, and Calista, all of Sioux Falls; Brother Dennis (Audrey) Becker, Sioux Falls, and many nieces, nephews, and extended family.
Pat was preceded in death by her parents, her husband, Larry Russell; brother, Elmer Becker; sister, Darlene Close; and one great-grandson, Reilly Johnson.
Visitation will be Friday, October 21, 2022 at 9 AM at Barnett-Lewis Funeral Home with a Memorial Service to follow at 10:30 AM.