Archived Services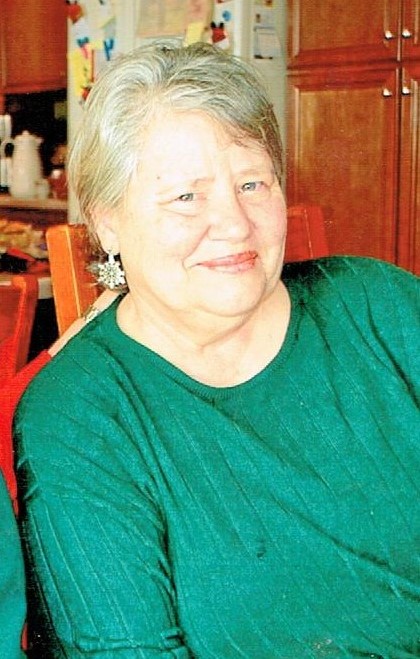 Marleen Ann Flannery
10-20-2022
Our loving mother, Marleen Ann Flannery, age 77, passed away on October 20, 2022. She devoted her life to her children and was known as "Grandma Marleen" by all–related or not.
Born August 27, 1945, in Madison, SD, Marleen was named by combining parts of her parents' names. "Mar" from Martin and "leen" from Eileen (Carmody) Nelson. The family moved to Sioux Falls, and she grew up in the Cathedral district surrounded by her large family of eight siblings, lots of aunts and uncles, and tons of cousins.
On May 6, 1967, Marleen married the love of her life, James Flannery. Together, they had six children and lived by the motto of  "Your will, not ours." Never was this more prevalent than when she cared for Jim as he suffered from Parkinson's and passed in 2019 after 52 years of marriage.
Marleen led a rich life and serving the community was important to her. She volunteered for various school, church, and 4-H activities, in addition to being a Sunday preschool teacher and a Brownie, Girl Scout, and Cub Scout leader.
Marleen opened a daycare when her youngest, Michael, was a toddler because she wanted to be sure he had playmates growing up as the older kids were preparing to leave the nest. But she happily continued on, well after he was grown, as she often said being around kids kept her young.
She treasured family – whether by blood or by friendship. In fact, she was the very definition of it.
Her grandchildren meant everything to her, and through the years she was a daily presence in their lives, showing them endless love and patience. Grandma Marleen rarely missed a concert, play, sporting event, or special occasion.
In recent years, Marleen became a huge fan of Elvis. Perhaps the only thing she was more of a fan of was Ode, the family restaurant. You could often find her at the end of the bar, taking reservations, talking to any and everyone. She made all feel welcomed – and seen. Not only at the restaurant – anywhere – as that was just her way.
She was adored by many, and respected by countless more. Her door was always open and there was nothing she liked doing more than to "visit". Which is why she was often the last to leave a party, especially a family gathering.
She loved going to the theater and if she knew someone in the production – even better! She had opinions to share, loved starting conversations with "out of curiosity", laughed at herself and taught us all how to as well.
Grandma Marleen was nothing short of an amazing person. The world has lost a very special woman and she will be greatly missed by many including her six children Mary (Duane) Fritz, Patty (Joe) Lucey, Jim Flannery, Julie (Bob) Allen, Theresa (Bobby) Kramer and Michael (Liz) Flannery. She was a fun-loving grandma to Connor, Hayden and Katelyn Fritz; Gavin Lucey; Raeya and Finn Allen; DJ and Maxwell Jackson; Jaron and Charlie Kramer; Jake Flannery.
Matriarch of the family and a great sister to Marty (Lonie) Nelson, David (Dorothy) Nelson, Duane (Sally) Nelson, Bernadette, Jay, Joseph (Alicia) Nelson and John Nelson.
Marleen was preceded in death by her loving husband, her parents, her brother Richard Nelson and her father-in-law Francis Flannery and mother-in-law Mae (Sweeney) Flannery.
A private viewing for the immediate family members took place on Friday, October 21, 2022, at Barnett Lewis Funeral Home.
Everyone who knew Grandma Marleen is welcome to join our family in a celebration of life Irish Wake open house on Sunday, October 30, from 2:00 – 5:00 pm at the family's restaurant Ode to Food & Drinks, 300 N. Cherapa Place in Sioux Falls. https://www.odetofoodanddrinks.com/contact-us
A Mass of Christian Burial will be officiated by Father Samson Monday, October 31 at 10:00 am at Christ the King Catholic Church located at 1501 W. 26th Street in Sioux Falls, SD. http://www.ctkparish-sf.org/ A luncheon will follow the service in the Church Community Center.
The burial will take place at 1:00 pm at SD Veterans Cemetery, 25965 477th Avenue, Sioux Falls, where she will be buried alongside her husband, Jim Flannery.