Archived Services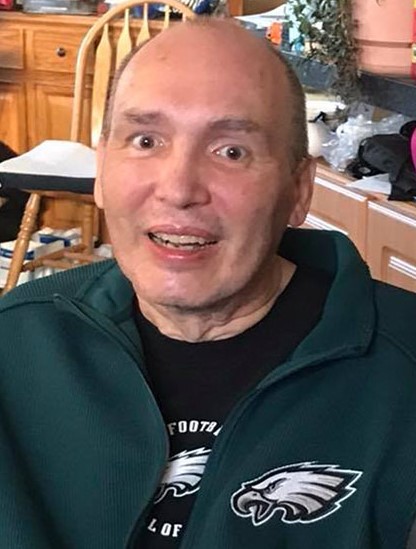 John W Huber, Jr.
01-04-2023
John W Huber, Jr. passed away in his home on January 4, 2023, after a nearly six year battle with ALS.
John was the oldest of five children, born to John W. Sr. and Mardel B. (Dieckman). He attended school primarily in Sioux Falls where he also enlisted in the Air Force. John left for basic training after graduating from high school in 1979.
He met Shirley Webb at the Defense Language Institute in 1979 and they married on May 25, 1980. They moved to Clark Air base in the Philippines in 1981. While serving in the Philippines they welcomed a son, Kyle and a daughter, Shannon. Then in 1984, they moved to Texas and then on to Hahn Air Base, Germany in 1986. John served in the Air Force for 11 years and received an honorable discharge on June 11, 1990. In 1990, the family moved to suburban Philadelphia, Pennsylvania where John began his career as a computer programmer. It was in Philadelphia where John's love of the Philadelphia Eagles began. He took Kyle to every Eagles home opener and the entire family went to Sunday games when the Philadelphia Phillies were in town. In 1998, John landed a new job near Colorado Springs and the family moved to Falcon, Colorado. After more than 20 years together, the marriage ended amicably.
John was very proud of his education and his career, he earned his Bachelor's degree in Computer Science from the University of Maryland and earned his Master's in Computer Science from Regis University in Colorado. He was very intelligent and had top security clearance both in the Air Force and during his career as a computer programmer, he even wrote his own computer language.
John met Cynthia Warner early in 2003 and they were married December 6, 2003. They celebrated their union with a honeymoon cruise. The newlyweds were both geeks and sci-fi lovers and anyone who knew John, knew he loved Star Trek - anything Star Trek. They also shared a love of dogs. John didn't care that Cyn had quite the crew and wanted to foster more. They moved their ever growing dog family to an acreage outside Peyton, Colorado. They volunteered at the National Mill Dog rescue to get dogs ready for a new forever home. John was in heaven at the acreage. He spent hours building fences, having a barn built and buying a tractor. He loved to garden and spent hours tending it and watching it grow. We all enjoyed a bounty of fresh vegetables for years. John and Cyn also loved horses and added three to round out their menagerie. One of John's other hobbies was brewing beer and he made some marvelous brews over the years. They loved traveling and took several more cruises and an incredible trip to Aruba. Their last trip was motorcycling around New Mexico and Arizona. They split for a short time but remarried in a small ceremony on February 18, 2020.
John was diagnosed with bulbar onset, amyotrophic lateral sclerosis in April 2017, (ALS) which is often referred to as Lou Gehrig's disease. In the first months, his daughter Shannon helped care for him and take him to appointments. As his symptoms increased, his nephew Beau went to stay with him in Colorado. He drove John to and from work, cooked and took care of the dogs. John moved to Sioux Falls in December of 2017 to be closer to family. He lived with his sister Debbie and brother-in-law, Kevin. They moved to a new house in June of 2018 that would accommodate John's growing medical needs. Debbie left her job in July of 2018 to become John's full-time caregiver. During the years he went to concerts from Brookings, SD to the Hard Rock Cafe in Sioux City, Iowa. John loved music and especially loved going to live concerts. At home he kept himself occupied listening to music and books. He loved watching football - specifically the Eagles and when he wasn't watching football, he and Kevin would watch movies and DVDs of their favorite television series.
The entire family is extremely grateful for the love, care and support provided by the nurses and caregivers from the VA and home healthcare services including; Traci, Lyla, Molly, Chase, Machelle, Brooke, Kathy, Joe, Barb, Kaylea, Emma, Emily, Starr, Diane, Roberta, Jill, Cassie, Alondra, Nick, Patsy and so many more.
Grateful for sharing his life are Cyn Warner (Albuquerque, NM); son Kyle (Rosalba) Huber (Bakersfield, CA); daughter Shannon (Joey) Warner (Peyton, CO); sister Debora (Kevin) Stene; brothers Don (Lori) Huber; Scott (Terri) Huber; Toby Huber (all of Sioux Falls, SD); grandchildren Natalia and Ian Huber (Bakersfield, CO); and Junior and Julianna Lenn and Kailey and Levi Warner (Peyton, CO); Donna (Dwayne) Kerkove (Lennox, SD); Shirley (Webb) Hook (Ft Worth, TX); along with many other aunts and uncles, cousins, nephews and nieces; and friends. John was preceded in death by his mother Mardel (Huber) Gillen, father John W Huber Sr, step-father Dale Gillen, niece Chelsea Huber.
Visitation will be Friday, January 13, 5:00 PM at Barnett-Lewis Funeral Home with a time of sharing at 6:30 PM.