Archived Services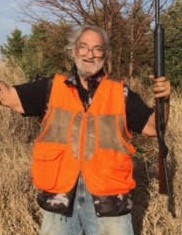 Marty Eugene Wasson
07-12-2023
Marty Eugene Wasson was born in Rapid City, South Dakota on July, 25 1949 to Eugene and Ada Wasson. Marty was the first of 6 kids. He attended Douglas School District in Box Elder, South Dakota.
Marty grew up in Ashland Heights,South Dakota with his 5 siblings, Darlene Wasson (Grass), Donna Wasson (Stulken), Daniel Wasson, Leslie Wasson and Margaret Wasson (Chronos). In Marty's early adult life he worked at Lead Mine, Waste Management, and as a Carny with a carnival. Later in life he became a beloved bell ringer for Salvation Army for 14 years. He looked forward to working with the Salvation Army every holiday season.
Marty met Marlys Myers in 1971 and they were married on July 16,1971.
Marty had a son from a previous relationship, Donnie Wayne Eichhorn. The union between Marty and Marlys produced 4 children, James Eugene, Leonard Eugene, Alison Nicole and Gloria Lynn.
One thing about Marty is he cherished his family. His grandchildren, Derek Rodgers, Sabreena Raue, James Klinkhammer, Travis Klinkhammer, Ben Wasson, Destiny Eichhorn, Katrina Winstead, Mackayla Wasson, Collin Winstead, Jacob Wasson, Tristen and Matthew Wasson and Dezeanna Eichhorn; who were all the apples of his eye and there couldn't be a prouder grandpa.
Grandpa loved to fish, and to camp. He loved teaching his many grandchildren and great-grandchildren how to fish. He loved camping with his family.
Thankful for sharing his life is his Wife: Marlys Wasson; his children: Donnie, James, Leonard, Alison and Gloria; his siblings: Darlene, Danny, Leslie, and Margaret; along with his grandchildren, great grandchildren, nieces, nephews, friends and his many non-biological children; grandchildren and great- grandchildren. Marty is preceded in death by his mother: Ada Mae Wasson; his father: Eugene Myers Wasson; his little sister: Donna Wasson (Stulken); his grand-parents, and his life long brother: Larry Dean Wilson.
Marty especially will be remembered for his kindness and the love he showed to everyone around him. Forever in our hearts. Never Forgotten.
Visitation will be Sunday, July 23, 2023 from 5:00 PM - 8:00 PM at Barnett-Lewis Funeral Home. Funeral Service will be Monday, July 24, 2023 11:00 AM at Barnett-Lewis Funeral Home. A Go Fund Me Page has been set up or donations may be sent directly to Barnett-Lewis Funeral Home.