Archived Services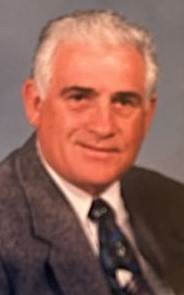 Thomas Haight
08-18-2023
Thomas Haight, 87, passed away peacefully and with dignity at the Dougherty Hospice House with several family members present on August 18, 2023. Tom was born to George and Marcella Haight in Montana on December 6, 1935. After the family moved back to Sioux Falls, Tom attended St. Joseph Cathedral grade school and graduated from St. Joseph Cathedral High School.
In his youth, Tom was a bat boy for the Sioux Falls Canaries and delivered papers for the Argus Leader in the north-end. Following graduation, Tom began working for the Argus Leader as an apprentice stereotyper. Tom was also a self-taught mechanic, welder, machinist.
In his later teens, Tom developed a passion for motorcycles. Tom joined Robert Smelser and Daryl Darger to form Shadco, Inc. while working full-time for the Argus Leader. The three men personally built their first shop on East 6th St. in Sioux Falls. Tom bought out Robert and Daryl and continued in the motorcycle business.
While attending a Triumph Motorcycle convention in 1962, Tom learned of a new motorcycle company in the U.S. and became its 179th dealer. That company was the American Honda Motor Co. Tom sold many brands over the years and in 1970 opened the Yamaha Sports Center in Sioux Falls with one of his original partner's sons, Rocky Darger. In May 1979 Tom and Rocky joined the two stores together and opened one of the largest motorcycle dealerships in the Midwest, Cycle Empire.
Tom's involvement in the motorcycle industry spanned 50 years. Following retirement Tom worked at Ace Hardware repairing windows and screens. Tom was also an accomplished motorcycle racer, winning the SD Mr. Motorcycle Traveling trophy three times. Tom sponsored and supported many local racers over the years. He spent countless hours helping racers work on their motorcycles, sometimes at very little to no charge or providing his shop as a place for them to work on it themselves.
Tom was a Charter member of Sioux Valley Cycle Club. Tom remained an active member throughout his life and at the time of his death Tom was number one on the list of membership years. He spent many years serving on the board of directors in various capacities but will be remembered for being directly responsible for purchasing the land in 1972 that the club is located on today. Tom realized how important it was for the club to own property. A decision that has benefited Sioux Valley Cycle Club for over 50 years.
Tom married Kathryn Nordin in April 1957 and had four children, Michael, Cindy, Tim, and Tony. In May 1978 Tom married Cheri Egan. Tom and Cheri celebrated 45 years together this year. Tom is preceded in death by his parents. George and Marcella Haight, older brother, James Haight, son, Michael Haight, and son-in-law Loren Nelson. He is survived by his wife, Cheri Haight, his children, Cindy Nelson, Tim Haight (Ann), Tony Haight (Suzann), Jamie Egan, Melissa Joachim; his 9 grandchildren, Travis Haight, Christy Haberling, Andy Nelson, Maddie Dunkle, Sam Nelson, Taylor Haight, Mike Haight, Kyle Haight, and Emily Joachim; and 5 great-grandchildren, Talan Haight, Maddox Haight, Owen Haberling, Jordyn Haberling and Loren Nelson.
Visitation will be Wednesday August 23, 5:00 PM at Barnett-Lewis Funeral Home with a Scripture Vigil at 6:00 PM. Mass of Christian Burial will be Thursday August 24, 10:00 AM at the Cathedral of St. Joseph.  Memorials and condolences can be mailed to 125 S Prairie Ave, Sioux Falls SD 57104.