Archived Services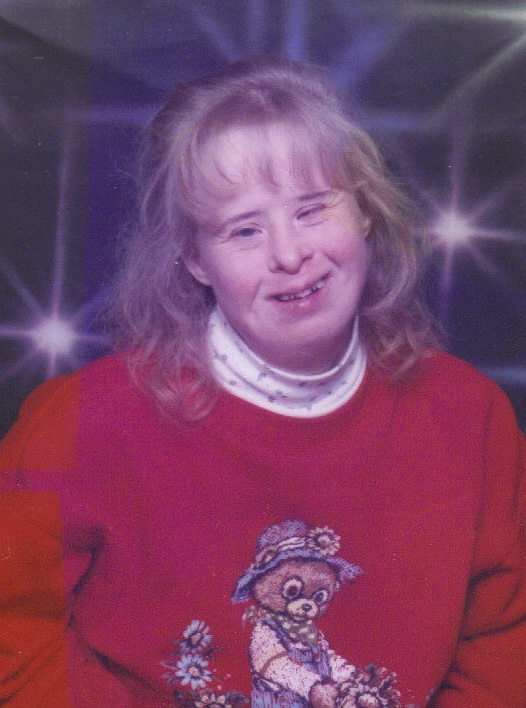 Angela Therese Metli
04-18-2013
Angela Therese Metli, 48, passed away April 18, 2013 at Avera McKennan Hospital in Sioux Falls, SD. The Metli family was blessed with Angela on November 7, 1964 in Rapid City, SD to Palmer and Rachael (Jean) Metli; the doctors predicted she would not live past 3 years of age. 48 years later the Father has called her home. Angie was a fighter; strong and full of life. She was funny, (a prankster of sorts), and loved unconditionally.
She is preceded in death by her father: Palmer; and mother: Rachael (Jean). Those left to cherish her memory include siblings: Mike, (Marie); Steve; John, (Sherry); Brian, (Barb), Gina Riedner, (Tom); nieces: Mindy, Ann, and Mary; nephews: Matt, Mason, and Marshall; and especially her amazing family at "SD Achieve", who have made a loving home for her the last 28 years.
Angie's friends at Achieve tell us she could always be found making someone's day. Angie loved to do crafts, visit her friends, listen to music, and always loved to be the center of attention. Angie enjoyed and took great pride in her employment at SD Achieve, where she did piece work for various companies in Sioux Falls. Angie liked to give high 5's, dance, exercise, sing and decorate with stickers. Her favorite outing was to go through a car wash, and then stop for ice-cream.
The family asks that in lieu of flowers, all memorials be directed to "SD Achieve", 4100 S Western Ave., Sioux Falls, SD 57105.
Visitation, with family present, will be at Barnett-Lewis Funeral Home, Sunday April 21 from 5:00 to 8:00 PM. Angie's funeral is Monday, April 22 at Barnett-Lewis Funeral Home at 10:30 AM, followed by a luncheon. Her burial will follow at St. Michael Cemetery; family and her "SD Achieve" family only requested.