Archived Services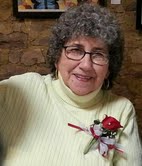 Bernetta "Bernie"(Bauer) Sterud
09-01-2013
Bernetta "Bernie"(Bauer) Sterud, daughter of Lambert and Mary Bauer, was born on March 12th 1942. She died on Sunday, September 1st 2013 at Dougherty Hospice House after a short battle with cancer.
She grew up in Britton, SD and later moved to Sioux Falls. She married Jerauld "Jerry" Sterud on April 8th 1961. They were blessed with four children. Bernie also was blessed with 10 grandchildren and 10 great grandchildren, along with many nieces, nephews and friends.
Bernie had a love for collecting antiques and you could find her each month at the local flea market. She also had a love for animals, especially dogs. She also enjoyed feeding birds and watching them through her kitchen window. She was a member of St. Joseph's Cathedral in Sioux Falls.
replica watches replica watches uk
Grateful for having shared her in her life are her husband: Jerry; her children: Tim (Cyndy) Sterud, Brian Sterud, and John Sterud all of Sioux Falls, and Deb (Al) Corkill of Tea; sisters: Barb (Bert) Vander Poel, Sally (Tony) Osiecki and Marian (Zane Sr.) Swenson; brother: Lambert (Lolly) Bauer; brothers-in-law: Bob (Barb) Sterud and Floyd Cunningham; and sister-in-law: Elaine Pederson. She was preceded in death her parents: Lambert and Mary Bauer; her mother and father-in-law: Cora and Joe Sterud; sister: Betty Cunningham; brothers: Vernon Bauer and Edward Bauer; Sisters-in-law: Joan Bauer and Mary Sterud; and brother-in-law: Robert Pederson. In lieu of flowers, memorial gifts may be directed to the Sioux Falls Humane Society.
Visitation will be Wednesday, 5 PM at Barnett-Lewis Funeral Home with family present from 6-8 PM. Mass of Christian Burial will be Thursday, 10 AM at the Cathedral of St. Joseph with burial following at St. Michael's Cemetery. In lieu of flowers, memorial gifts may be directed to Sioux Falls Humane Society.