Archived Services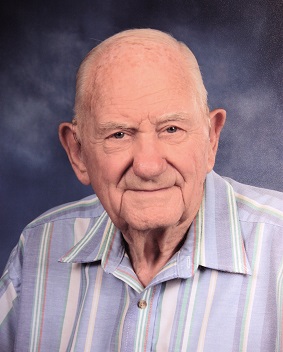 Robert "Bob" Alexander
12-30-2013
Robert "Bob" K. Alexander was surrounded by his family as he passed away on December 30th, 2013 after a short illness. He was born on November 22nd, 1921 in Delmont, SD to parents David K. Alexander and Mamie F. Alexander (Beals). Bob grew up near Delmont and graduated from Delmont High School. He moved to California where he worked for a short time and then enlisted in the U.S. Naval Reserve on August 31st, 1942.
He served in the South Pacific aboard the U.S.S. Stanly DD 478 as a Gunners Mate First Class. The U.S.S. Stanly DD 478 was one of the ships of the "Little Beaver" squadron which was the only destroyer squadrons in WWII to receive the Presidential Unit Citation. On one of his leaves, he returned to California and married Betty Anne Gill on October 3, 1944.
He was very proud of his military service and was very patriotic. During one battle, a 40 mm gun jammed on the port side of the ship. He rushed to that gun, corrected the malfunction, took the position and shot down a Japanese plane which was attacking the port side. He saw action at Guadalcanal, Solomon Islands, Bougainville, Philippines, Borneo, Iwo Jima, and Okinawa. He received the Bronze Star for Valor, Presidential Unit Citation, Navy Commendation Ribbon, The Pacific Campaign Ribbon with 9 Battle Stars, Good Conduct Medal, America Area Ribbon, The Philippine Liberation with Bronze Star and a WWII Victory Metal.
After his discharge from the Navy in October of 1945, he and his wife lived in Burbank, CA for a short while before moving to South Dakota. They lived in Egan, SD a short time and started their family. His main career was in the Electric Motor Repair and Service business with Shakstad Electric, where he was the Vice President of Operations for 35 years.
Bob was a avid golfer in his retirement, with his main accomplishment being

"A Hole in One" at age 63 at the Lennox Golf course at hole #2. Another hobby of Bob was woodworking. He enjoyed making different projects and giving them away to family and friends. Robert was well known at McDonald's as he was there most afternoons for a cup of coffee and conversation.
He was preceded in death by 2 brothers, 2 sisters, his parents, 2 sons-in-law, 1 daughter-in-law, and his beloved wife of 58 years, Betty. Grateful for having shared is life are 4 sons: Michael (Jackie), Sioux Falls, David (Linda) Elsmere KY, Thomas (Marcia) Sioux Falls, Dan (Pam) Sioux Falls; 5 daughters: Barbara Keyman, Sioux Falls, Judy Stricherz, Sioux Falls, Linda, Sioux Falls, Susan (David) Parker, Sioux Falls, Jan, Sacramento CA; 22 grandchildren, 25 great-grandchildren and 3

great-great-grandchildren.
Visitation will be

Thursd

ay,

5 PM at Barnett-Lewis Funeral Home with a Scripture Vigil at 6:30 PM. Mass of Christian Burial will be Friday, 10:30 AM at St. Lambert Catholic Church

.