Archived Services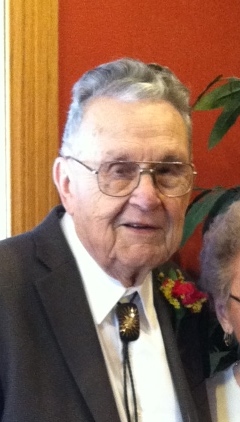 Louis Hohn
10-06-2014
Louis Hohn, 89, of Sioux Falls, SD, passed away peacefully on Monday, October 6, 2014, at the Dougherty Hospice House after a brief illness.
Louis L. Hohn was born on November 22, 1924, in Dimock, SD, to John C. and Hedwig (Baumgart) Hohn. He attended a country school near Dimock through the 8th grade. In February of 1945 he joined the U.S. Army 35th Infantry Regiment, 25th Division. While his unit was being transported by ship to the Philippines, World War II ended, and Louis' infantry unit was then deployed to Tokyo, Japan. He served until December of 1946.
On January 6, 1948, Louis was joined in marriage to Victoria C. Laber in Parkston, SD. In 1951, Louis and Victoria made their home in Sioux Falls, SD. For the next 31 years, Louis was employed at the VA Medical Center as a cook and later the lead baker. As the lead baker, he was known for his delicious rolls, pies, and other special dietary needs of the patients at the hospital. Upon a short retirement, he continued his passion of service by cooking for the children of St. Joseph Cathedral Grade School for the next ten years.
Throughout the years, Louie enjoyed dancing at the Arkota Ballroom, the VFW, and the Center for Active Generations. He also enjoyed card playing, gardening, watching Minnesota Twins baseball, and, most of all, cooking. Louie was well-liked by everyone who met him. He could easily strike up a conversation with anyone. Family was very important to Louie; he was proud of his "girls" and enjoyed all family celebrations and activities with his children and grandchildren.
Louis was a long-time member of the Moose Lodge, the American Legion Post 15, the VFW Post 628, the DAV, and the Active Generations. One of Louis' proudest moments was being a member of the SD Honor Flight to Washington, DC, on Veteran's Day in 2010.
Grateful for having shared his life are his wife Victoria; daughters Joyce (Dennis) Donovan; Patricia (Lewis) Lyon; Mary Lou (Joel) Harmon; and seven grandchildren, Christine (Trevor) Ellwein, Erica Donovan, Matthew and Michael Lyon, Alisa, Jacob and Joseph Dubbelde; and two great-grandchildren, Jack and Molly Ellwein, and many nieces and nephews. Louis is also survived by three sisters; Evelyn Lang, Parkston, SD; Gloria Loos, Sioux Falls, SD; and Virginia Binder, Yankton, SD. He is preceded in death by his parents, a sister Viola; a brother Marlin; and his son-in-law Troy Dubbelde.
Visitation will be Thursday, 5:30 PM at Barnett-Lewis Funeral Home with a Scripture Vigil at 7 PM followed by the Rosary. Mass of Christian Burial will be Friday, 9:30 AM at the Cathedral of St. Joseph.