Archived Services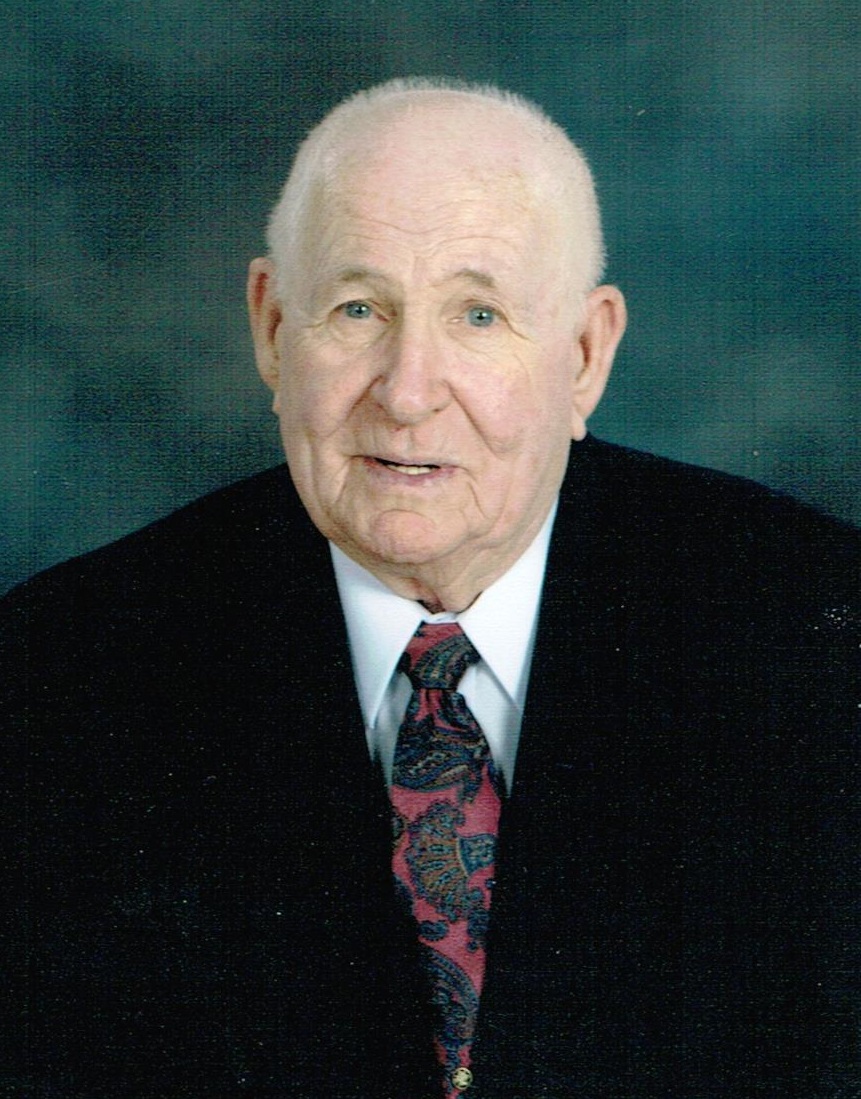 Theodore "Ted" Wood
08-11-2016
Theodore "Ted" Wood was born to Coy and Rose (Sapp) Wood on November 16, 1922 in Hawarden Iowa. He passed away August 11, 2016 in Sioux Falls. He attended Hawarden High School where Ted played on the basketball team, was a drummer in the marching band, and also played baseball for the VFW. After graduation, Ted was drafted in the Army and served with the Army Corp of Engineers as a bridge builder in Europe where his unit bridged the Rhine River during WWII. He returned home in 1946 to Hawarden where he met the love of his life, Dolores "Lorry" McCue, and they were married. The couple was blessed with three children, Edward, Vicki, and Michael while in Hawarden. They moved to Oklahoma, Kansas and later to Colorado were Patrick was born. They relocated to Southern California where Robert and Raymond were born.
Ted's different occupations included delivering gas, renting music equipment and giving music lessons prior to arriving in California where he found a job with Flintkote at a corrugated box factory by telling the superintendent that a mutual friend told him to call him a "son of a bitch". The factory was sold to McMillan Bloedel, and finally to International Paper Company. Ted was hired as a machine offbearer, but held positions as lead man, production foreman and maintenance foreman while working in the plant in Los Angeles. Vacations were spent camping at Lake Isabella where Ted drove the boat pulling skiers and was affectionately known as Commander Whitehead to anyone under the age of 30, after the commercial spokesman for Schweppes Tonic that would be mixed with gin.
International Paper Company transferred Ted to Watsonville, CA when he took the position of field service supervisor to oversee the production of strawberry crates, and be the liaison to strawberry growers all along the central California coast. Ted and Lorry moved to their retirement home at Southlake California on Lake Isabella where Ted enjoyed golf, bingo, fishing and playing cards. Ted and Lorry moved to Sioux Falls, South Dakota where they enjoyed bingo, visiting casinos, and spending time with their grandchildren. Ted's greatest heartbreaks were when his wife Lorry went home to be with the Lord in 2004 and when his son Pat passed away in 2011. Ted moved in with his daughter Vicki in 2012 and maintained his own financial affairs until his death. His sense of humor never failed when his body did.
Ted is survived by his sister: Helyn Thompson; his daughter: Vicki; sons: Ed (Millie), Mike (Jan), Bob (Rikki), and Ray (Jan); and numerous nephews and nieces, grandchildren, great-grandchildren and great-great grandchildren. Ted was preceded in death by his beautiful wife Lorry, his son Patrick, his parents, Rose and Coy, his brothers Woody (Artis) and Ed (Maxine), his sister Dr. Ruthie Delorey (Bob), brothers-in-law Tommy Thompson and Larry (Pattie) McCue.
Visitation will be Wednesday August 17, 6 PM at Barnett-Lewis Funeral with the Rosary at 7 PM. Mass of Christian Burial and reception will be held Thursday August 18, 10:30 AM at Christ the King Catholic Church followed by the burial at Grace Hill Cemetery in Hawarden, Iowa.