Archived Services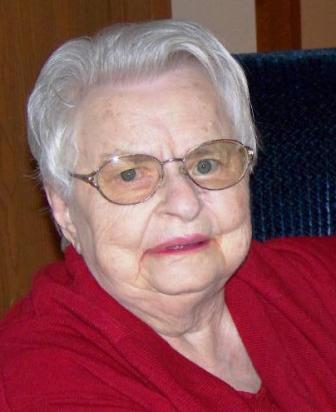 Delores Kerkhove
11-15-2016
Delores Theresa Kerkhove, 87, passed away November 15, 2016 at the Menno-Olivet Care Center in Menno, SD, Delores was born on July 27, 1929 to Anthony and Edna (Malloy) Even at Humboldt, South Dakota.
Delores attended St. Ann's Catholic School and graduated from Humboldt High School. She was united in marriage to Charles Kerkhove on May 12, 1953 at St. Ann's Catholic Church in Humboldt.
Delores was a member of St. Michael Parish in Sioux Falls. She was a paid for life member of Ruste-Waul Unit 154 of the American Legion Auxiliary. She was a volunteer at the Veteran's Administration Hospital since 1975. She enjoyed playing cards, sending cards of cheer to family and neighbors and spending time with her family.
She always enjoyed her time with her classmates of 1948: Marian Puthoff, Molly Stenaas (dec), Dorothy Ketcham (dec), Wanda DeDe, Dorothy Hocking, Betty Hammer and Darlene Duffy.
Delores is survived by her husband, Charles; children: Robert (Vic) Kerkhove, Montrose, SD, Lois Getzin, Vermillion, SD, Charla Cope, Montrose, SD, Adele Schmidt, Columbus, NE and Kay Kerkhove, Columbus, NE; nine grandchildren, nine great-grandchildren; her sister: Lorraine Buckmiller, Sioux Falls; brothers: Neal (Agnes) Even, Humboldt and Loren Even, Menno;sister-in-law: Marie Soehl, Sioux Falls; her "adopted" McKinney girls: Sue McKinney, Laura Beaner, Teresa Kontz, Mitzie McKinney-Kropp, Mari Van Camp, Paula McKinney and Michelle Ruhoff; along with many friends and family. She was preceded in death by her parents, and a sister, Cyrene McKinney.
In lieu of flowers, the family has requested donations be directed to the Menno-Olivet Care Center or the Ruste-Waul American Legion Post 154 in Montrose, SD.
Visitation will be Sunday, 3:30 PM at St. Patrick Church in Montrose with a Scripture Vigil at 5:30 PM. Mass of Christian Burial will be Monday, 10:00 AM at St. Michael Parish in Sioux Falls with burial to follow at St. Ann's Cemetery in Humboldt.