Archived Services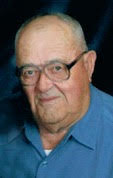 Raymond Dean Haley
04-04-2017
On April 4, 2017, Raymond Haley, died peacefully in his sleep after a long battle with cancer. He was 82 years old.
Raymond was born November 9, 1934 and was raised in Sherman, South Dakota. As a young man, he worked for Gustafson Company building bridges. He moved to Sioux Falls and was united in marriage to Bev in 1955. Together they raised four children: Angela, Laurie, Sharon and Vincent.
In Sioux Falls, he began his career as a carpenter. He worked on Avera McKennan , the Veterans Administration and Sanford hospitals. He also worked on St. Lambert Catholic Church, North Western Bell and many others. He went on to build homes in the Sioux Falls area. He worked for many construction companies including: Lovett and Friessen, Bruns, Sioux Falls Construction, Henry Carlson and many others.
Raymond restored classic Chevy pickups. He loved to go to car shows to show off his truck and talk to people. Raymond was always willing to lend a helping hand. He also loved to go fishing.
Raymond is survived by his wife: Bev; children: Laurie, Sharon and Vincent; sisters: Patricia Callsen, Rose Mills, Dorothy (Roger) Larson, and June Haley; brother: Michael (Maureen) Haley and many nieces and nephews. He was preceded in death by his daughter: Angela; parents: Eugene and Ruby Haley; two sisters: Marian Aulner and Lois Jones; and a brother: Patrick Haley.
Visitation will be 6:00 PM, Monday the 10th, at Barnett-Lewis Funeral Home with a Scripture Vigil and Rosary at 7:00 PM. Mass of Christian Burial will be Tuesday the 11th, 10:30 AM at St. Lambert Catholic Church with burial to follow at St. Michael Cemetery.