Archived Services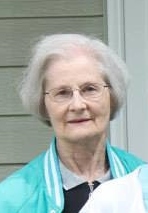 Lois Irene Harvey
10-12-2017
Lois Irene Schmitz, daughter of Nick and Margaret (McCarthy) Schmitz, was born May 22, 1932 at Harrold, SD. She grew up on a farm south of Harrold, SD and graduated from Pierre (SD) High School in 1949. Following high school Lois worked at the state capitol in Pierre before moving to Sioux Falls in 1951. In Sioux Falls she worked at John Deere and Zip Feed.
Lois met Francis Harvey in 1961 when he was transferred to Sioux Falls with his job at Stewart-Warner. They were married on October 19, 1963 at St. Joseph Cathedral in Sioux Falls. They were blessed with one daughter, Denise Renee, born in 1966.
The highlight of Lois' later life was her only grandchild, Marisa, who was born in 2005.
Grateful for having shared her life are her son-in-law: Bart Van Heuveln; granddaughter: Marisa; three sisters: Lucille Bickett, Sioux Falls, SD, Janice (Jerald) Bronemann, Harrold, SD and Pat (Merrill) Gregg, Pierre, SD; one brother: Dick Schmitz, Harrold, SD; three sisters-in-law: Mary Schmitz, Oakes, ND, Karen Schmitz, Rogers, MN, and Dodie Garrity, Hayes, SD; one brother-in-law: Ralph Arendt, Sun Lakes, AZ; and numerous nieces, nephews and cousins. She was preceded in death by her husband, Francis, daughter, Denise, parents, five brothers, Harry, Mel, Bob, Don and Tom Schmitz; a sister, Darlien Arendt; brother-in-law Ernest Bickett and two sisters-in-law, Edna Schmitz and Eileen Schmitz.
In lieu of flowers, memorials may be directed to Camp Kesem at campkesem.org or Cancer Programs Fund at averamckennanfoundation.org Relatives and friends are invited to gather with the family for lunch and fellowship in the community hall, following the committal service.
Visitation will be Thursday October 19, 5:00 PM at Barnett-Lewis Funeral Home with a Scripture Vigil at 6:30 PM. Mass of Christian Burial will be Friday, 10:30 AM at Christ the King Catholic Church with burial to follow at St. Michael Cemetery.