Archived Services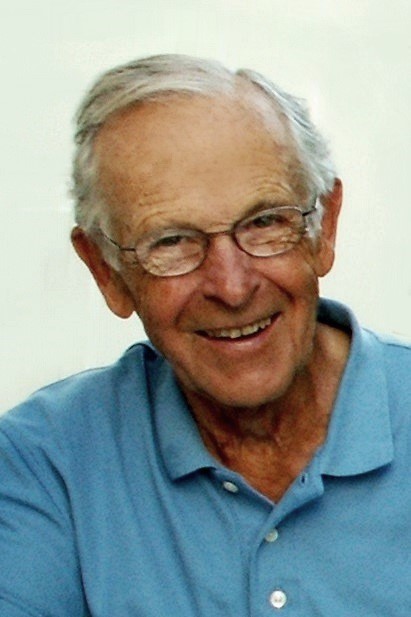 Dr. George Louis Barnett
11-19-2017
Dr. George Louis (Lou) Barnett, 92, died peacefully on Sunday morning, November 19th, a week after his devoted wife of 70 years, Maggie, passed suddenly.
Born on February 18, 1925, Dr. Barnett was the son of George Richard and Ruth Bauch Barnett, who raised their lively family of nine children on Duluth Avenue. He was a devoted and active member of St. Joseph Cathedral Parish for most of his long life, singing tenor in the Cathedral Choir, attending daily mass, and serving on the church council. He graduated from Cathedral High School in 1942. He was the quarterback of the high school football team and played clarinet in the band. He was honored by Sioux Falls Catholic Schools, who named him a distinguished alumnus for his service to the community.
Because of the need for doctors during World War II, Lou enrolled in an accelerated five-year program of college and medical school. During this time, he was commissioned in the Navy Reserve.
He graduated from Creighton University Medical School at the age of 22. On June 7, 1947, two days after his graduation, Lou married his beloved Margaret Mary (Maggie) Sheets of Omaha. They met in the church choir, and enjoyed singing and dancing together throughout their long marriage.
After early years in Graceville, MN, and Fort Meade, MD, where he served as a Captain in the US Army, Lou and Maggie returned to Sioux Falls in 1955 and settled in the Cathedral Historic District. Together they raised ten children in their home, which was filled with music, fun and laughter, always open to friends and neighbors. A family physician for more than 50 years, he delivered hundreds of babies, many for generations in the same families. A soft-spoken and thoughtful man, he was patient and kind, and never raised his voice in anger.
Dr. Barnett played clarinet in the Augustana University Blue and Gold Band and played every summer with the Lennox Municipal Band. He played the baritone horn for many years for the annual Tuba Christmas Festival. He was a regular at Elmwood Golf Course until he turned 89 years old. He loved pheasant hunting with his sons and grandchildren, bagging two birds on his last outing at age 90. He enjoyed fishing for walleye and was an excellent bridge and pitch player. He practiced his clarinet every day and did the daily crossword puzzle and word jumble.
Dr. Lou is survived by his ten children: John (Shelly) of Salem, SD; Jim (Laura) of Sioux Falls; Margaret (Mike) Hooton of Pittsburgh, PA; Mary Catherine (Steve) Zahller of San Diego, CA; Bob of Pasadena, MD; Joe (Carrie) of Sioux Falls; Richard (Amy) of Sioux Falls; Bill (Jane) of Sioux Falls; Francis (Melissa) of Aberdeen and Martha Lyons of Tustin, CA.
Also mourning his loss are twenty-three grandchildren, each of whom knew they were his favorite: Chris (Mila), Matt, Pat (Janelle), Justin (Erin) Barnett; James Jr. (Tina) Barnett, Kara (Brian) Pfannenstein, Katherine (Aaron) Beckstrand, Michael Barnett; Robert Hooton, Kate (Brian) Hearn, John (Emily) Hooton, Christopher (Christina) Hooton; James Louis Zahller, Margaret Ann (Mike) Enos; Steven (Sophie Rodriguez) Barnett; Sarah (Shane) Meagher, Rachel Barnett, Maria (John) Maria; Julia, Joshua, Noah Barnett; Josephine and Thomas Lyons.
He will also be missed by his great-grandchildren: Brendan, Emma and Allison Barnett; Cameron, Caden and Joslyn Barnett; McKenna Barnett; Jameson Barnett and a baby girl due Feb. 2018; Patrick, Joseph, Thomas and Michael Pfannenstein; Madison Barnett; Margaret Barnett; Jack, Will and Finn Hearn; George, Hartley Grace and Penelope Katherine (born November 14, 2017) Hooton.
Lou is cherished by his brother, Don (Marilyn) Barnett, sister-in-law Kay Barnett, and by his many nieces and nephews of the Barnett, Williams, Harris, Sanders, Baker and Sheets families.
Friends will be welcomed by the family at the Cathedral of St. Joseph on Friday, November 24 beginning at 5:00 pm. A prayer service, followed by the Rosary, will begin at 6:30 pm. Mass of Christian Burial will be celebrated on Saturday morning at 10:00 am at St. Joseph Cathedral. Guests are invited for a luncheon after the funeral. Dr. Lou chose to donate his body to the USD Medical School. Graveside rites will be held at a later date.
Dr. Lou and Maggie loved children and supported their educations. Memorials in their names may be directed to Sioux Falls Catholic Schools, 3100 West 41st Street, Sioux Falls, SD 57105 for tuition assistance.