Archived Services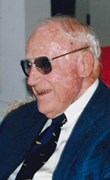 John Howard Bell
12-03-2017
John Howard Bell, age 93, passed away at his home in Cardinal, VA on Sunday, December 3, 2017. John was born and raised in Sioux Falls, SD. He had a distinguished career in the US Navy as a fighter pilot and served during WWII and the Korean War. After his retirement from the Navy, John and his wife Marnie moved to Mathews County in 1975. John loved fishing, golfing, and volunteering in the community he loved.
He was a member of the Church of Francis de Sales where he served as a volunteer administrator for 15 years and he was a life-time member of the Knights of Columbus. He was also a volunteer for 15 years with the Mathews Rescue Squad and served as the Chairman of the Board for 6 years.
John was preceded in death by his parents, several siblings, and his daughter Barbara Ann Bell. He is survived by his wife of 72 years, Marnie Bell; son, John H. Bell II (Ann); brother, Don Bell (Kitty); grandchildren, Audrey Smith (Brian) and David Bell (Jessica); and 8 great-grandchildren.
A funeral mass will be held at 11am on Thursday, December 7, 2017 at the Church of Francis de Sales in Mathews. The family will receive friends at the Church prior to the service beginning at 10am. Interment will be in Sioux Falls, SD. Memorial donations can be made to the Mathews Volunteer Rescue Squad, 94 Cricket Hill Rd., Hudgins, VA 23076 or to the Church of Francis de Sales, 176 Lovers Lane, Mathews, VA 23109. Faulkner Funeral Homes & Cremation Service, Foster-Faulkner Chapel is assisting the Bell family with arrangements.