Archived Services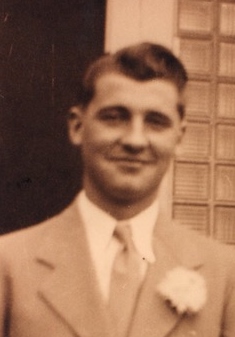 David LeRoy Howell
11-07-2018
David LeRoy Howell, 94, passed away peacefully at his Sioux Falls home on November 7, 2018.
David was born on a farm near Ordway, SD on November 14, 1923 to Ruel and Elsie (Russell) Howell. At 17 years of age, he joined the army and served as a medic in the Pacific region during World War II. After the war he returned to Aberdeen, South Dakota and married his sweetheart, Alice Nikolas, on August 3, 1946; together they raised nine children. In his early career, David worked in construction, which took him across the state of South Dakota. In the early 1950s, he returned to Aberdeen where he farmed, built custom cabinets, and raised his family.
David retired from farming in 1978; then moved to Sioux Falls where he worked for the Federal Housing Authority (FHA) as a building inspector until he retired in 1988. In retirement, he engaged in his first passion, woodworking. He was truly an artist in the woodshop, building roll top desks and other high-quality furniture for family. For his grandchildren, he made wooden toys and puzzles. Most family members own and display cheerful holiday decorations crafted out of wood by David. He also loved genealogy; he worked diligently compiling the Howell/Russell family history.
David is survived by his wife of 72 years: Alice; one sister: Doris Zubak, Tillamook, OR; six children: Linda Howell, Dacono, CO, James Howell, Aberdeen, SD, Wendy (Robert) Hogan, Fernandina Beach, FL, Daniel (Debra) Howell, Sioux Falls, SD, William Howell, Blackhawk, SD, Edward (Karen) Howell, Fernandina Beach, FL; 24 grandchildren and 27 great-grandchildren. David was preceded in death by his parents, five brothers, six sisters, and three of his sons: Randall, Terrence, and Brian Howell.
In lieu of flowers, donations can be directed to the Sioux Falls Habitat for Humanity.
Visitation will be Sunday, November 11, 3:00 PM to 5:00 PM at Barnett-Lewis Funeral Home. Funeral Service will be Monday, November 12, 10:30 AM at Barnett-Lewis Funeral Home.