Archived Services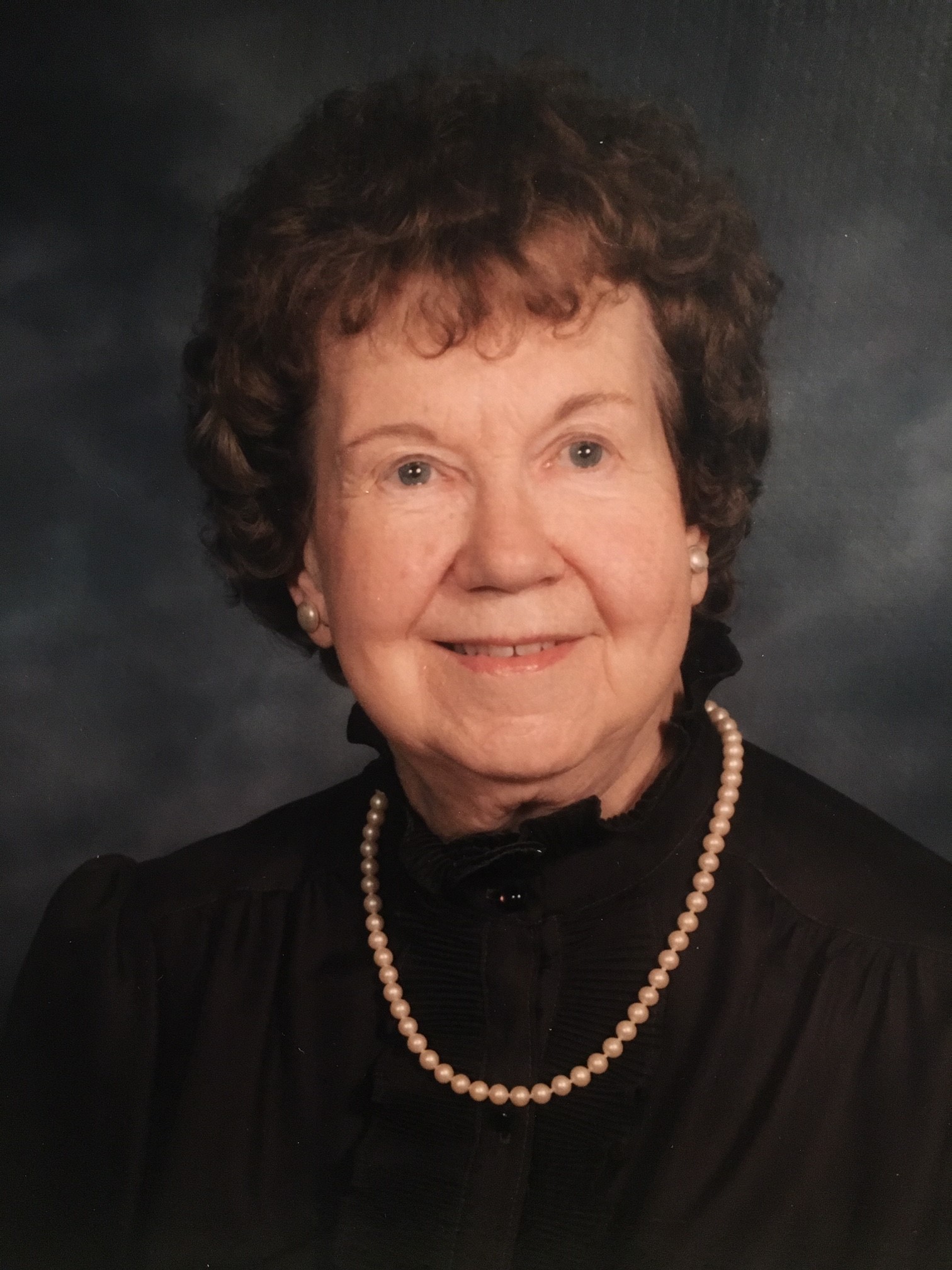 Edna Headrick
11-16-2018
Edna Brenner-Hanno-Headrick
May 17, 1917 to November 16, 2018
WWI
In April 1917, President Woodrow Wilson signed a Declaration of War, engaging the United States in World War 1. Six weeks later, on Thursday, May 17, Edna Brenner was born at home on a farm between Delmont and Armour, SD to John and Sophia (Hartman) Brenner. The following day, Congress enacted the Selective Services Act, which created the draft.
South Dakota would lose 565 of its sons in the Great War.
Challenging Times
Edna was the granddaughter of immigrants -- all four of them from what was then the Bessarabia region of Russia. She arrived at the Brenner farm, joining sisters Altha (age 2) and Wilma (17 months), during a time when rural homes had no electricity or indoor plumbing. There were no electric lights, furnaces, refrigerators, air conditioners, or washers and dryers. In farmhouses and barns, light came from kerosene lamps. Water for cooking and cleaning had to be brought in from an outside well, and outhouses served as bathrooms. Battery-operated radios wouldn't arrive for another 10 years. And electricity would be a decade beyond that.
Edna's mother Sophie passed away when Edna was just 10. Accounts vary as to whether Sophie had a miscarriage or her passing was a result of a ruptured appendix, but it's believed she was toiling in the fields to the end. Her death left John with the immense challenge of raising four children (Edna's brother Ervin came along in 1922) alone while running a farm during wartime and leading into the Depression.
As fate would have it, Edna herself would later raise her own four children independently and with an inspiring quiet determination undoubtedly cultivated in that hardscrabble setting.
Helping on the farm through her childhood, Edna tended the family garden, and looked after the smaller animals -- including bottle feeding their lambs. She entered Delmont High School just as the Great Depression descended on the country.
Edna was 18 the night she married Lester Hanno by candlelight at St. Peter Lutheran Church in Armour – the same church where she was baptized and confirmed. Early homes for the young couple in Dust Bowl era Midwest included a rural acreage and a repurposed country schoolhouse.
Then in 1942 after daughters Lorraine and Bonnie were born, the young family boarded trains destined for Los Angeles, settling first in Pacific Palisades and later in Venice just blocks from the Pacific Ocean.
WWII
It was again wartime and Lester found work with Douglas Aircraft, helping churn out planes essential to the Allies' success. Considered targets vulnerable to Japanese attack, West Coast cities conducted drills to protect themselves. Edna was required to keep windows covered at night. In many commercial buildings, they were painted over altogether. Sirens were placed atop poles around the city. Some of those green air raid sirens and paint-covered downtown windows can still be found in Los Angeles today.
Lester and Edna's family expanded during their time out West with the births of Sher (1943) and Jim (1944). The next September, boisterous celebrations marking the end of WWII in broke out everywhere around their beach community. But there was little revelry in Edna's home as Lester had left her and their kids for another woman.
Her children were happily unaware of Edna's desperate struggles to keep the family sustained and together until she could get them packed for the return train to Armour. The youngsters then stayed with their grandfather while Edna put herself through beautician school in Sioux Falls.
Post War to Present
Upon finishing her training in 1946, Edna collected the kids and moved into a small but warmly aromatic apartment above a bakery in Bonesteel, SD. That humble, hectic one-bedroom Main Street apartment was also home to Edna's first business. Mi Own Beauty Shop would, over the coming 40 years, move to Humboldt, then Mitchell, and finally to Sioux Falls. At each stop, Edna's sole proprietorship operated out of her modest home, including its final stop – the basement of a 2 bedroom, 1 bath rented cottage at the corner of Minnesota and 4th (now the site of the Minnehaha County building complex). With each incarnation, Mi Own Beauty Shop became a neighborhood fixture and many its customers, her friends.
This period of Edna's life was enriched by a 41-year marriage to Vern Headrick (passed in 1994); extensive travel with him throughout the U.S. and Canada; and a host of grandkids, great, and even great-great grandchildren. They and the rest of her extended, appreciative family enjoyed seeing her joy in dancing with Vern, her satisfaction in sewing dresses and pajamas for the younger girls, her ruthlessness at family card games, and her devotion to her faith expressed through Sioux Falls' East Side Lutheran Church.
Edna would often make her way up the two-block hill on South Minnesota Avenue from her home to the Good Samaritan nursing home to cut and style for her salon customers who moved there as their ages advanced. Ironically, Edna herself would eventually make Good Sam her final address.
Edna slipped away in her sleep just before midnight on November 16 at 101 years of age. Her ashes will be interred at St. Peter's Cemetery in Armour next to those of her husband Vern and near her parents' graves in a small ceremony this coming Spring. If you'd like to be contacted when details are available, please email CelebratingEdna@gmail.com
Family

• Parents (deceased): John Brenner and Sophia Hartman

• Siblings (deceased): Altha Semmler, Wilma Batterman, Ervin Brenner,
Warren Brenner (half brother)

• Spouses (deceased): Lester Hanno, Vern Headrick

• Children: Lorraine Collier, Bonnie Peterson, Sher Franklin (Gil), Jim Hanno (Linda)

• Grandchildren: Mike Overbaugh, Dale Sturges (deceased) Mark Overbaugh,
Peggy Sturges-Gulbrandson, Peter Jennings, Amy Hanno-Kuehl

• Great Grandchildren: Randy Overbaugh, Sadie Waters, Owen Kuehl, Anisse Jennings

• Great-Great Grandchildren: Tyler Overbaugh, Tavian Pewo, Zaiden Pewo