Archived Services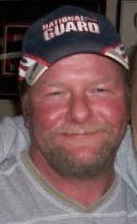 Steve Urban Dreyer
07-24-2019
Steven Urban Dreyer Age 50, passed away unexpectedly at his home on Wednesday, July 24th, 2019. Steven Urban Dreyer was born in Sioux Falls, SD on September 16th, 1968 to Charles "Chuck" and Mariel (Monen) Dreyer.
Steve a.k.a Hog grew up and enjoyed spending time at the race tracks. He spent his younger days at Huset's Speedway in Brandon, SD and Lake County Speedway in Madison, SD working with his siblings as his father's helping hands. He loved playing pool, drawing and painting, listening to music, watching his beloved Minnesota Vikings, and a little NASCAR with his brothers. Most importantly spending time with his family and friends. He had an approachable personality with a contagious smile that would light up any room.
Steve attended Little Flower, Franklin, & Edison schools in Sioux Falls.
Steve possessed many talents that carried on into his work. He worked for Raven Industries. During that time he painted several balloons for the Macy's Day parade. He also experienced and enjoyed a once in a lifetime adventure working with his three nephews Shain, Mikey, and Nick and niece Jenni for Highway Improvement. Steve has done maintenance for 20+ years at local hotels, with him most recently being employed at the Ramada Inn and Suites.
Steve is survived by his daughters: Megan (Rick) Woodring of Tea, SD and Samantha (Todd) Casper of La Crosse, WI; 7 grandchildren: Drake, Tyler, Owen, Mason, Ruger, Marli, and Malcolm; his five brothers: Mike, Pat (Carol), Jeff, Billy (Billie Jo), and Greg (Bonnie) Dreyer all of Sioux Falls; long time friends: Gus Conroy, Mike Rinder and the Iron Creek Family; lots of nieces and nephews; great-uncles and extended family. He is preceded in death by his parents: Chuck and Mariel Dreyer; brothers: Randy Dreyer and Todd Dreyer, sisters: Stephanie Dreyer and Mary Sievert; and nephews: Matthew Dreyer and Isiah Leiss.
Visitation will be from 9:30AM-10:30AM on Wednesday, July 31st, 2019 at Barnett-Lewis Funeral Home. Funeral services will follow on Wednesday at 10:30 AM.