Archived Services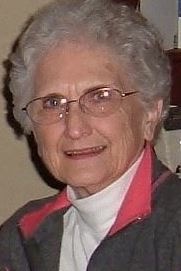 Irene Josephine Garry
08-28-2019
Irene Josephine Garry, 90, of Eagan, MN and Sioux Falls, SD passed away peacefully on August 28, 2019 in Eagan, MN, in the loving arms of her family.
Irene was born on November 17, 1928, in Vesta, MN to Charles and Agnes (Kotval) Dunne. Irene graduated from Milroy High School and St. Catherine University in St. Paul, MN with a degree in Occupational Therapy. Irene worked and volunteered at McKennan Hospital for many years and worked at Dayton-Hudson's later in her career.
On July 28, 1951, Irene married Vern Garry of Bridgewater, SD in Anoka, MN. They lived in Texas, Missouri, and settled in Sioux Falls in 1962, where they raised two children and created a circle of love and service to their extended family, friends, and community we'll always hold dear.
Irene was an active member of St. Mary's parish, a devoted wife, mother and grandmother who always displayed a genuine happiness and sweetness to all. She will be in our hearts forever.
Irene is survived by her children: Bryan (Lori), Eagan, MN; and Sue (David), Bellingham, WA; four grandchildren: Luke, Julia, Gabriella, and Erin; many nieces and nephews who meant the world to her. She is preceded in death by her husband, Vern in 2012, her parents, and her remarkable sisters Hazel Dunne, Florence (Dunne) Mase, and Helen (Dunne) Kozlak.
Visitation will be held Tuesday, September 10, 10:00 AM at St. Mary's Church followed by Mass of Christian Burial at 11:00 AM. Burial will follow at St. Stephen Cemetery in Bridgewater, SD. In lieu of flowers, memorial contributions can be made to Bishop O'Gorman Catholic Schools.