Archived Services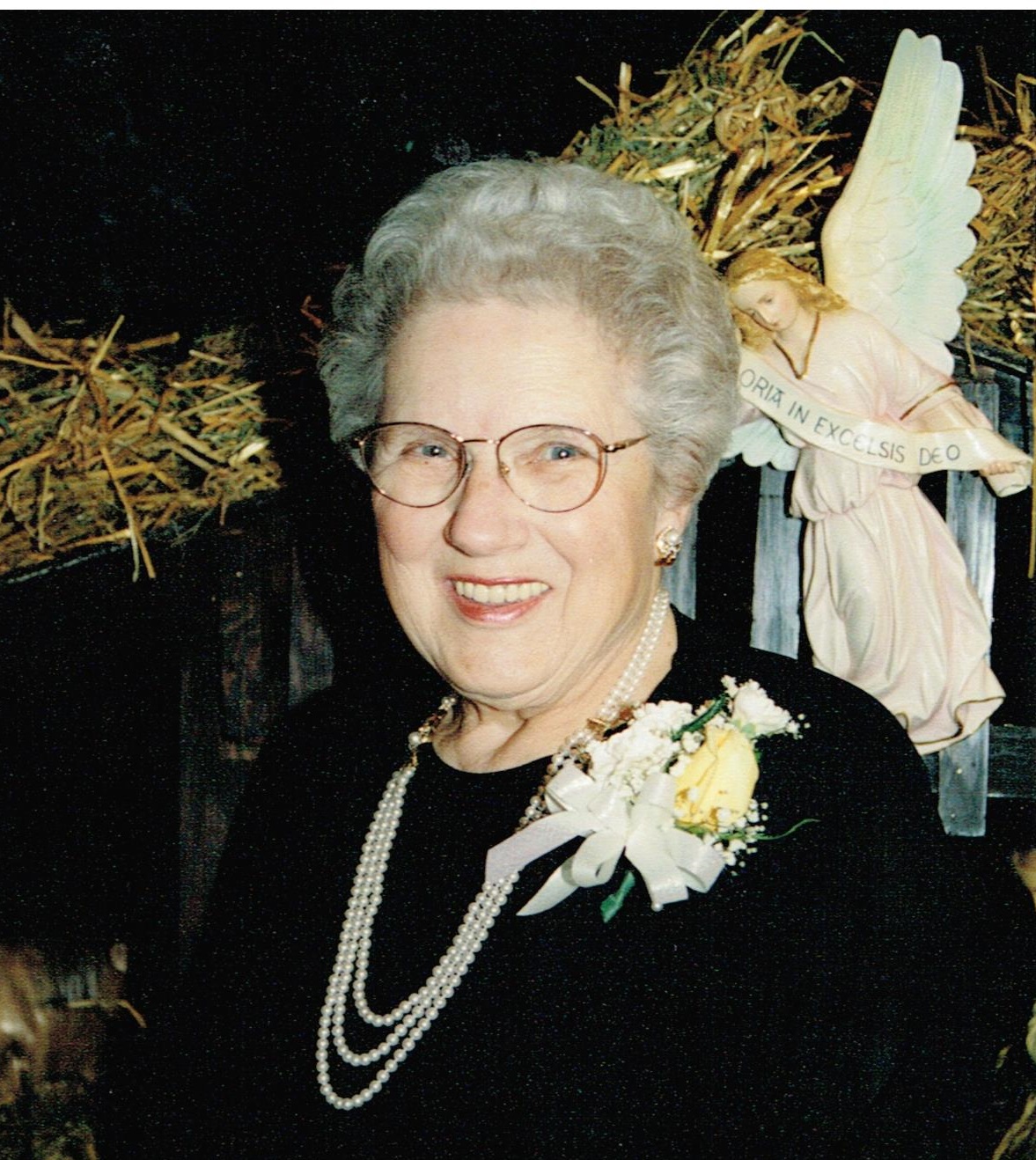 M. Lorraine Pierce
10-18-2019
Margaret Lorraine Pierce, 98, died October 18, 2019 at her home in Sioux Falls with family by her side. Lorraine was born in Luverne, MN on December 27, 1920, to Clarence Victor and Winona Marie (Horrell) Wathen. She was the oldest of 6 girls and 2 boys. As each new baby in the family was born, Lorraine defined what was to be her calling in life – she became a mother figure and caregiver to her younger sisters and brothers.
Lorraine attended school at Pipestone County School District 25 for several years and graduated after 8thgrade from Hatfield, MN School. At the young age of 17, she first met Vernon Pierce when he delivered groceries to her employer's home. He would always whistle while he worked, and Lorraine would hide behind the door when he walked up to the house because she didn't want him see her! She couldn't hide for long, however, and he finally spotted her.
Lorraine and Vernon dated for about 5 years before "tying the knot." World War II had begun, and Vernon entered the US army. In 1943 he was stationed at Camp Barkley near Abilene, TX. When they decided to marry, Lorraine left her family – and everything she knew, traveling alone by train to Abilene, TX, sitting on her suitcase the entire trip, to marry the man of her life, her soulmate, Vernon! Their wedding took place on July 17, 1943. They lived in Abilene for 7 weeks before Vernon was transferred to Indio, CA for desert training. Lorraine then traveled by car to Indio with a Lt. Colonel's wife and her 3 children. She and Vernon lived there for 4 months; he was then transferred to NJ, and they lived in Trenton from January through March 1944. At that time he was stationed overseas in Europe, so Lorraine returned to Sioux Falls where she began working at JC Penney.
Vernon returned from the war in October 1945 and came home to Sioux Falls. Robert Vernon was born 9 months later, and Lorraine left her job at Penney's to follow her life's call of motherhood. In the following years Marla Marie, Kathleen Anne, Roger Lee, Roland Mark, Rodney Eugene, Marleen Adele, Rory Alan, and Jacqueline Kaye completed the family. It always amazed us that no matter how many of us there were, love abounded and none of us ever felt left out! That, in no small way, was due to Mom and Dad's extremely large capacity for love. That same love has extended to their 30 grandchildren, 39 great-grandchildren, and 14 great-great-grandchildren, as well as any others in the future and upcoming generations.
When Jacqueline was about 2, Lorraine and Vernon decided to offer less fortunate children a better way to begin their lives. They became foster parents and offered over 120 babies a home from the time they were born until they were adopted by loving families. Some of those children remain close to Lorraine to this day. That special tender loving care from Lorraine and Vernon was given not only to the young, but also to the elderly, in particular Lorraine's mother Marie Wathen and Vernon's siblings Mildred Durant and Melvin Pierce.
Vernon passed away very suddenly of an aortic aneurysm in October 1988. Lorraine's strong belief in God made it possible for her to make it through that difficult time. Leading by her examples of inner strength and serenity, she guided her children through this chapter of their lives while we all tried to make sense out of it. She also continued along God's chosen path for her of nurturing others by continuing to care for Mildred until her death in 1992.
Lorraine loved camping and annual trips to the Black Hills with her family. She enjoyed trips to visit her out-of-town children and other relatives, a cruise with her siblings, and visiting other friends. Lorraine liked dancing, especially square dancing with Shirts and Skirts Square Dancing Club. She lived independently until her death at 98 years young and had numerous friends. She enjoyed playing BINGO and 500 with them and spent many a summer evening sitting outside with them after a walk. She enjoyed gardening, sewing, crocheting and embroidery with friends. She loved to attend plays, concerts and musicals, as well as baseball, softball, basketball, volleyball, and football games that her grandchildren and great-grandchildren participated in. She was so proud of her family and made sure that each one knew that.
Lorraine was a member of St. Joseph, St. Therese and St. Mary parishes for many years, and was a member of the Altar Society, Legion of Mary, Catholic Daughters, and past member of St. Mary funeral choir. She held a special devotion to Jesus and the Blessed Virgin Mary, and to praying the Rosary. She was a lifetime member of the VFW and DAV and served as president of DAV Auxiliary.
The family offers special thanks to Kathleen for her loving care of Lorraine these last years of her life.
Lorraine was preceded in death by her parents, husband, siblings Mary (LeRoy) Kempenich, Thelma (Bud) Westebur, Cecil (Sue) Wathen and Pat (Doug) Dysthe; grandchild, Marti Pierce, and great-grandchildren Jordan Pehnke and Cameron Van Wagner. She is survived by her children: Robert (Debbi) Pierce, Galveston TX; Marla (Maury) Richard, Sioux Falls SD; Kathleen Piercemogen, Sioux Falls SD; Roger (Sandi) Pierce, Flower Mound TX; Roland (Mary) Pierce, Madison SD; Rodney (Mary) Pierce, Sioux Falls SD; Marleen (Brad) Brown, Sioux Falls SD; Rory (Dee) Pierce, Wheatridge CO; Jacqueline (Kevin) Humke. Sioux Fall SD; siblings Bernadine (Morris) Van Hoecke, Pipestone MN; Rita (Bob) Paulsen, Pipestone MN; Howard (Judy) Wathen, Janesville WI; former daughter-in-law Sandy (Rose) Pierce; 30 grandchildren; 39 great-grandchildren; 14+1 great-great-grandchildren, and many nieces and nephews.
Visitation will take place Wednesday, October 23, 4:00 PM at Barnett-Lewis Funeral Home with a Scripture Vigil at 6:30 PM followed by a Catholic Daughters Rosary. Mass Of Christian Burial will be Thursday, October 24, 10:30 AM at St. Mary Catholic Church followed by interment at St. Michael Cemetery. In lieu of flowers, memorial donations may be made to fighting cancer of any kind, Bishop O'Gorman Catholic Schools (teacher's wages and scholarship funds for needy families), and to the offering of Mass for family or individuals.
Lorraine's humor and steadfast faith in God assisted her along life's path many times. And she, in turn, helped many others to find their way. She and Vernon always encouraged their children to follow their own dreams and find their own answers to life's questions. They never placed limits, but rather encouraged them all to find their own paths and boundaries.