Archived Services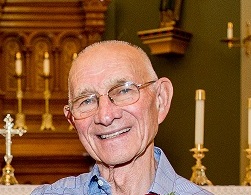 Maynard Bernard Hennings
02-02-2020
Maynard was born in Sioux Falls, SD on April 30, 1935 to Vern and Zelma Hennings. He lived most of his life in Sioux Falls; his family briefly moved to Oregon when he was a young boy but returned to Sioux Falls. He attended school in Sioux Falls and graduated from Washington High in 1955 where he played football.

On June 1, 1957, he married Monica (Kapperman) in Hartford, SD and they made their home in Sioux Falls where they raised their five children. Their life together was full of love, faithfulness and fun. 

Maynard worked at John Morrell in Sioux Falls for 33 years retiring in 1989. He then began working as a custodian at St Joseph Cathedral school where he enjoyed the work for 11 years. A few of his grandchildren attended school at St Joseph's and were so happy to see him every day. 
An avid outdoors man, Maynard loved to hunt and fish. He spent many days walking fields, sitting in duck slues and holding a pole. Maynard always had a hunting dog by his side. He loved to hunt with his son, grandsons and friends. He provided many meals for his family doing something he enjoyed so much.  
Above all he loved his family. He was a devoted husband and loving father. There were a lot of family vacations and camping adventures. Maynard loved when the family was together. He was young at heart and loved to participate in activities with his children or grandchildren. He was very physical fit and could keep up with most anyone. 
His loving family include his wife: Monica; his children: Terri (Wayne) Pease, Mark (Debbie) Hennings, Mary (Jim) Frank, Pam (Jay) Titus and Nancy (Mark) Haugen; his grandchildren: Erin, Nathan, Josh, Nick, Kayla, Katie, Ben, Kelsey, Brianna, Rylee, Tanner, Seth, Luke and Ryan; his great grandchildren: DJ, Addison, Emmet, Charlotte, Audrey, Jonah, Kaden, Nolan, Everly, Carter, Hunter, Harper and Elijah; his companion: Cookie. 
Maynard was member of the Cathedral of St Joseph in Sioux Falls where he helped whenever asked. He cherished his church family and all the friendships that were made.
Visitation will be Thursday February 6, 2020 beginning at 5:00 PM at Barnett-Lewis Funeral Home with a Scripture Vigil at 6:30 PM. Mass of Christian Burial will be Friday February 7, 2020 10:00 AM at the Cathedral of St Joseph in Sioux Falls with lunch to follow. Burial will be at St. George Catholic Cemetery in Hartford.