Archived Services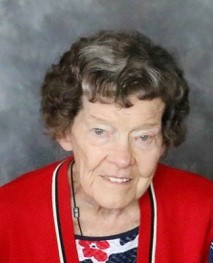 Adeline Doris McIlvenna
04-27-2020
Adeline McIlvenna, 91 of Sioux Falls, SD, died Monday, April 27, 2020 at Good Samaritan Village.  
Adeline was born July 17, 1928 to John and Elvira Bickett in Beresford, SD. She grew up on the family farm and attended the country grade school located on the Bickett farm. She attended high school at Mt. Marty in Yankton, SD. She married Patrick McIlvenna September 15, 1951 at Coronado Naval Base in Coronado, California. They returned to Sioux Falls in 1961 where they raised their seven children and became active and faithful members of St. Joseph Cathedral.
Adeline was a loving mother, grandmother and friend to many, she welcomed all into her home. Family was so important to her. She especially enjoyed her time with her grandchildren and great- grandchildren, who discovered she was hard to beat at Kings Corner and other card games. She was also a loved daycare provider for many other children. Adeline had a great sense of humor; she and Pat made a great team. He was the practical joker and storyteller. Adeline, with a twinkle in her eye, was the one who made you believe.  
During the last days of her life, when COVID19 prevented family from being near, she was surrounded by her Good Samaritan family of friends and caretakers which also included her daughter Mary and granddaughter, Abi. They enjoyed her quick wit and the way she could brighten your day. The family will be eternally grateful for the care and love they gave her, in the last several years but especially in the last moments of her life.
She was preceded in death by her parents, husband, Patrick (married over 50 years), four brothers, Milford, Ray, John and Bernard, and 3 sisters, Bernice, Marie and Dorothy and honorary "adopted" son, Dan Garner.  
Grateful for having shared her life are her children: Sherri Zuelke, Las Vegas, NV, Dan, Spring, TX, Mary (Steve) Blau, Sioux Falls, SD, Kelly, Harrisburg, SD, Teresa (Rory) McKenney, Larchwood, IA, Mike (Lisa), Viborg, SD and Jerry(Joan), Sioux Falls, SD; 14 grandchildren: Heather, Kyle, Dustin, Matt, Pat, Rebecca, Kara, Michelle, Jenny, Brianna, Ike, Megan, Teddy and Abigayl;  and 32 great-grandchildren; sisters: Lillian Biehl and Irene Latendresse; and brothers: Robert and Jerry; and many nieces and nephews.
Visitation will be live streamed at barnett-lewis.com Friday May 1 from 5:00 - 8:00 PM. Private Mass of Christian Burial will be held at the Cathedral of St. Joseph.